Are you a student Doing IGNOU MARD Project ? Are you looking for high-quality project reports to excel in your studies? IGNOU MARD Project With our wide range of project reports and dedicated customer support, we are your one-stop destination for all your Ignou project needs.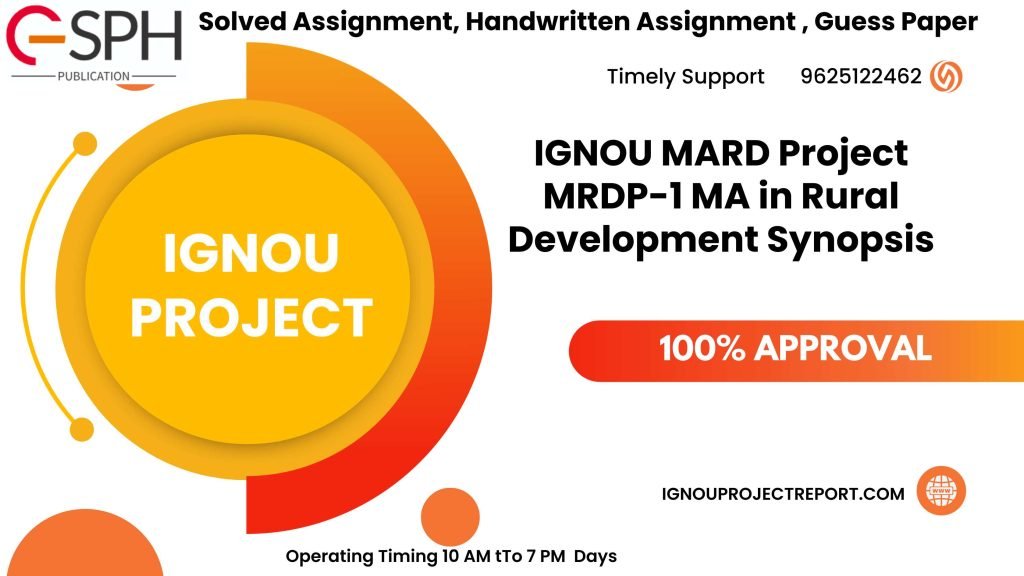 Steps from Synopsis to Final Submission
Step 1: Reading the Project Handbook
Start by thoroughly reviewing the IGNOU Project Handbook specifically designed for MARD students. This will offer you an overview of the project requirements and expectations.
Step 2: Deciding on the Research Focus
Rural development is a multifaceted field, and you should pick a sector that genuinely interests you for your research. This could be agriculture, healthcare, education, or rural governance.
Step 3: Selecting a Project Guide
Choose a project guide with ample experience in your chosen research focus. A knowledgeable guide can offer you invaluable insights throughout your project journey.
Step 4: Discussing and Finalizing the Topic
Hold discussions with your guide to finalize a topic that is both relevant to the community and academically rewarding.
Step 5: Crafting the Synopsis
Your synopsis should follow the guidelines provided in the IGNOU Project Handbook. It typically includes sections like the introduction, objectives, research methodology, and expected outcomes.
Step 6: Synopsis Approval
Submit the synopsis to your guide for approval. This is the first formal step towards starting your MRDP-1 Project.
Step 7: Data Collection and Ethical Considerations
After your synopsis gets the green light, you can proceed with data collection. Ensure to uphold the ethical standards for academic research.
Step 8: Data Analysis
Data analysis is a crucial step in your MRDP-1 Project. Use appropriate tools and statistical methods to interpret your data.
Step 9: Writing the Dissertation
Once your data is ready, it's time to put it into a structured dissertation. Stick to the format and guidelines outlined in the IGNOU Project Handbook.
Step 10: Getting Supervisor's Approval
Your dissertation needs to be reviewed and signed by your supervisor. This step is crucial before you submit the project.
Step 11: Submission at Maidan Garhi
After your project is signed by your supervisor, you must submit it to the IGNOU campus at Maidan Garhi, bypassing the need for any Viva Voce.
---
Expert Services for Your IGNOU MARD MRDP-1 Project
Why Choose Us?
Expert Guidance: Our seasoned professionals can provide detailed insights and assistance at each stage of your project.
Topic Selection Assistance: We can help you identify a research topic that is both impactful and aligns with your interests.
To get started, reach out to us at 9891268050.
---
By diligently following these guidelines and potentially opting for our expert services, you can complete your MRDP-1 Project successfully. Here's to your academic and research journey at IGNOU!
Useful Links:
Download IGNOU MARD Project Guidelines PDF
Download IGNOU MARD Project Cover Page