Are You Pursuing Your MA in Psychology at IGNOU? Here's How We Can Assist You With Your Project!
Completing your MA in Psychology (MAPC) project at IGNOU can be a challenging task. But the good news is, you're not alone! In this comprehensive guide, we outline the steps to successfully complete your MAPC Project Dissertation and Viva, as well as offer expert services to help you excel.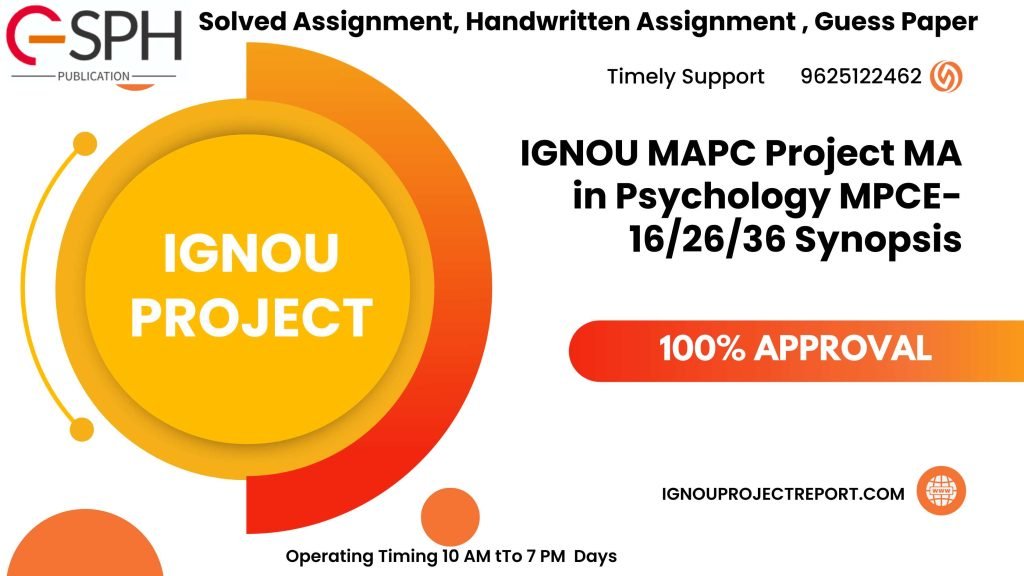 The Journey From Synopsis to Dissertation Submission and Viva Voce
Preparing Yourself
1. Read the Handbook on Project Thoroughly
Before diving into your project, make sure to read the guidelines, instructions, and requirements outlined in the IGNOU handbook on projects. It will give you a thorough understanding of what is expected from you.
Research Planning
2. Decide Your Specialization Course
IGNOU offers various specialization courses under MAPC, such as MPCE-016, MPCE-026, and MPCE-036. Select the one that aligns with your academic and career objectives.
3. Select a Guide
The role of a guide is invaluable in research. Pick someone with a wealth of knowledge in psychology and considerable experience in guiding projects.
4. Discussion with the Guide
Once you've chosen your guide, it's time to finalize your topic. A meaningful discussion can help you narrow down a topic that is both of interest to you and valuable in the field of psychology.
Preparing the Synopsis
5. Synopsis Format
The handbook usually provides a synopsis format, including essential elements like introduction, objectives, methodology, and expected outcomes. Adhere to this format to ensure your synopsis meets IGNOU's guidelines.
6. Synopsis Submission
Submit your synopsis at the designated Regional Centre (RC) before the stipulated deadline, ensuring that all required documents are included.
Data Collection and Analysis
7. Ethics in Data Collection
Remember, you can begin data collection only after your synopsis is approved. While collecting data, be ethical. Make sure to get informed consent from your participants and maintain confidentiality.
8. Data Analysis
Data analysis is often the most challenging part of research. It requires a specific set of skills, including proficiency in statistical software. Make sure to correctly interpret your data to derive actionable insights.
Writing and Submission
9. Dissertation Writing
Follow the structure outlined in the handbook and be meticulous when writing your project dissertation. It should include sections like introduction, literature review, methodology, results, discussion, and conclusion.
10. Ethical Writing Practices
Avoid plagiarism and properly attribute all external works cited within your dissertation.
11. Dissertation Submission
Submit your completed dissertation at the designated Regional Centre. Make sure you meet all the formatting and submission requirements.
12. Viva Voce
Finally, prepare for your viva voce. This oral examination is the last step in your MAPC journey.
Example Topics for MAPC Project
Occupational Stress Among Healthcare Workers
Impact of Social Media on Adolescent Mental Health
And many more. Check the full list here.
---
Why Choose Our Expert Services for Your IGNOU MAPC Project?
Expert Guidance
Our team of professionals specializes in psychology and is fully acquainted with IGNOU guidelines. Their guidance can add immense value to your project.
Topic Selection Assistance
The topic you choose can make or break your project. We help you select a topic that not only interests you but also holds academic merit.
Research and Data Analysis
With our experts by your side, you can ensure that your research is robust and your data analysis is accurate.
Comprehensive Project Report
A well-structured project report can impress your evaluators and earn you high marks. We help you achieve this through our specialized services.
To begin your journey with us, WhatsApp at 9891268050 or 9625122462 with your project requirements.
---
By following this guide and availing of our expert services, you can navigate your way through the rigorous MAPC project requirements and come out successful. Good luck on your academic journey at IGNOU!
IGNOU MA Psychology project guidelines PDF
IGNOU MA Psychology project Cover Page