IGNOU BAVTM Project The IGNOU BAVTM Project (BTMP-142) is a six-credit course, implying around a year-long duration and approximately 120 study hours. The project commences with topic selection and ends with the submission of a research paper of around 12000 words (excluding bibliographic references), symbolizing the fulfillment of assigned tasks. These tasks encompass:
Choosing a research theme
Undertaking a review of pertinent literature
Crafting an IGNOU BAVTM synopsis
Gathering and evaluating data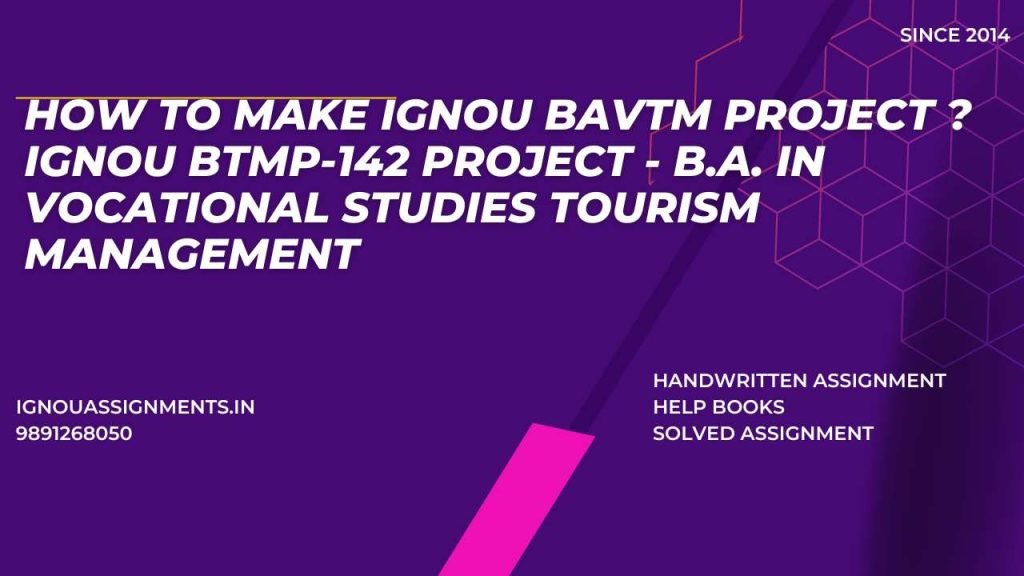 How to draft an IGNOU BAVTM Proposal/Synopsis (BTMP-142)?
The proposal/synopsis can be submitted to your supervisor. The following steps will guide you in framing your IGNOU BAVTM Synopsis:
Project Title: The title should clearly indicate the project's essence and scope. It should be concise and precise, with relevance to your profession.
Introduction: Early on, provide a synopsis of the topic, the research's broad context, its significance, and define key terms.
Title Justification: The problem statement should contain a succinct analysis and explanation of the topic's importance, serving as the groundwork for the investigation. Current literature is reviewed to identify knowledge gaps, which justify the choice of the study topic.
Objectives: The project's goals should clearly signify the purpose of undertaking this project. A topic generally has three to four objectives, helping to narrow the focus of the study.
Hypothesis: This is the most probable explanation for the project's current state. However, not all research involves testing hypotheses.
Research Methodology: For BAVTM research requiring fieldwork, the research universe must be identified first.
Sampling Methods: Depending on field research, a random sample of the population needs to be selected.
Data Collection Instruments: Specify the tools to be used for data collection from various sources.
Data Analysis: Upon scrutinizing and coding the raw data, statistical methods can be utilized for data analysis.
Tables: The tables will furnish relevant statistical data.
Chapter Organization: The chapter structure will guide the organization of the report.
How to draft an IGNOU BAVTM Project (BTMP-142)? The project is structured as follows:
The IGNOU BAVTM project length should be around 20,000 words. The main body of the project should be 1.5-line spaced, printed on one side of the page with one-inch margins. The finished dissertation and the accepted project proposal should be spiral-bound between light plastic sheets.
The project's contents should include:
Project's cover page
Title page
Note from the Academic Supervisor
Table of Contents
Acknowledgements
Body of the work split into chapters
Approval of the Project Proposal by the Faculty Committee.
Writing techniques to enhance your IGNOU BAVTM Project work:
The following additional suggestions can help enhance your IGNOU BAVTM Project work:
Use clear, straightforward language and sentence structure.
Numerals smaller than three figures should be spelled correctly.
Include visuals to clarify complex ideas.
Start writing as early as possible.
Begin with the most compelling facts and basic concepts.
Prepare a chapter-by-chapter outline of your project's content.
Break up large sections of text with headers and subheadings.
Want Help With IGNOU BAVTM Project
Are you a student pursuing a BAVTM from IGNOU? We are excited to announce that we offer top-notch IGNOU BAVTM project for sale, designed to simplify your academic journey and help you excel in your studies.Are you feeling overwhelmed by the demands of your final project? Look no further! Read on to discover how our project B.A. in Vocational Studies Tourism Management solutions can benefit you.
Expertly Crafted Projects:
Our team of experienced professionals has a deep understanding of the IGNOU BAVTM curriculum and the requirements for project submissions. We take pride in developing high-quality, comprehensive projects that adhere to the university's guidelines. With our assistance, you can rest assured that your project will be well-researched, structured, and presented to meet the highest academic standards.
Customized to Your Needs:
We recognize that every student has unique requirements and preferences. That's why our IGNOU BAVTM projects can be customized to align with your specific interests and objectives. Whether you need assistance with project topic selection, data collection and analysis, or report writing, we have you covered. Our aim is to deliver projects that reflect your individuality and demonstrate your understanding of the subject matter.
Time-Saving Solution:
As a student, managing multiple assignments, exams, and other commitments can be challenging. Our project solutions provide you with a time-saving alternative, allowing you to focus on other important aspects of your academic journey. By entrusting your IGNOU BAVTM project to our experts, you can free up valuable time and energy while ensuring that your project is completed within the given timeframe.
Expert Guidance and Support:
Alongside the project material, we offer comprehensive guidance and support to enhance your understanding of the subject matter. Our team of experts is available to answer your queries, provide clarification, and offer suggestions throughout the project development process. We believe in fostering a collaborative relationship with our clients, ensuring that you feel confident and well-prepared during project presentations and viva voce examinations.
Maintaining Academic Integrity:
Service & Charges
We understand the importance of upholding academic integrity and encourage students to utilize our project solutions responsibly. Our projects serve as valuable reference materials to help you structure your own work effectively. We strongly advise using our projects as a guide to gain insights and inspiration while developing your unique project based on your own research and understanding.
Seeking assistance with your IGNOU projects? Look no further! We understand the importance of comprehensive support and affordable solutions when it comes to IGNOU projects. Our range of services is tailored to meet your specific project requirements. Whether you need help with your synopsis, proposal, thesis, dissertation, or report, we are here to provide the assistance you need. Discover our services and transparent pricing below. Simplify your IGNOU project process with us!
Calling all IGNOU students! If you require assistance with your IGNOU projects, we are dedicated to providing you with the necessary support. Simply send us an email with your subject details at IGNOUPROJECTREPORT1@GMAIL.COM or contact us via call or WhatsApp at 9891268050.
Services Offered:
Synopsis/Proposal Preparation: Our expert team offers guidance in developing a well-structured and impactful synopsis or proposal for your IGNOU project. We ensure that it aligns with the university's guidelines and increases the chances of approval.
Thesis/Dissertation/Report Writing: Craft a high-quality thesis, dissertation, or report with the assistance of our team of subject matter experts. We follow a systematic approach, conducting thorough research, organizing your findings, and presenting them coherently. Our work adheres to the prescribed format and referencing style to ensure academic excellence.
Service Charges:
Masters/Post Graduates/Diplomas Courses:
Synopsis/Proposal: 10-20 pages (Rs. 1000)
Thesis/Dissertation/Report: 80-120 pages (Rs. 2000)
Masters in Psychology Courses (MPCE 16/26/36):
Synopsis/Proposal: 15-20 pages (Rs. 1500)
Thesis/Dissertation/Report: 100-150 pages (Rs. 2500)
Bachelor Degree Courses:
Synopsis/Proposal: 5-10 pages (Rs. 500)
Thesis/Dissertation/Report: 30-60 pages (Rs. 500)
Notes:
We guarantee the approval of your synopsis. If it is not approved, we will provide a new one at no additional cost.
If you do not receive your synopsis within 3 days, please inform us, and we will send it to you the following day.
Please provide the following details for synopsis preparation:
Name
Enrollment Number
Contact Number
Email ID
Subject Code
Why Choose Us?
Expertise: Our team consists of experienced professionals with in-depth knowledge of IGNOU's project guidelines and requirements. We ensure that your project meets the university's standards.
Customization: We understand that each project is unique. Our services are customized to align with your specific subject, course, and project requirements.
Timely Delivery: We value your time and strive to deliver your project within the agreed-upon timeframe. Our efficient process allows ample time for your review and submission.
Quality Assurance: We maintain the highest standards of quality in our project assistance. Our team performs thorough quality checks to ensure accuracy, coherence, and adherence to academic standards.
Confidentiality: We prioritize the confidentiality of your personal and project-related information. Your data will be handled securely and will not be shared with any third parties.
we offer comprehensive IGNOU project assistance at transparent and affordable prices. Our services cover various courses and include synopsis, thesis, dissertation, and report writing. With our expertise, customized solutions, and commitment to quality, we aim to simplify your IGNOU project journey. Contact us today to avail of our services and ensure the successful completion of your IGNOU project.